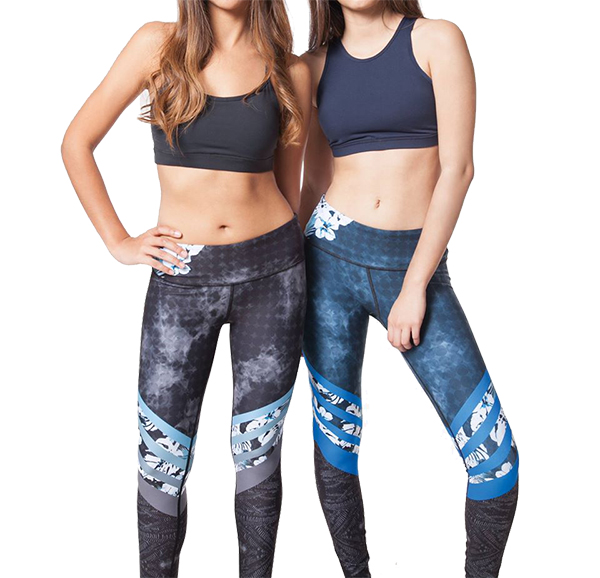 What did we do before leggings? I was trying to think back to what I wore before they existed. Velour Juicy Couture sweatsuits? Champion sweatpants? UGH. I believe the birth of leggings has been one of the best gifts women have received in the workout actually "life" department. Not only do we wear them to exercise but they have truly replaced the jean section in so many of our closets. I have developed an abnormal addiction to buying leggings ever since my yoga practice expanded to six days a week. Every season I am psyched to see what's new in the activewear world.  On my hunt for the most comfortable, best fit, chic leggings, I have put together a little shopping guide faves for spring!
*Some of the leggings are cut to order so they take 4 weeks to order (Def worth the wait though!) Please read the fine print when you click on the link.
Roller Girl Leggings $72-$82
Dirk Diggler will go wild for these Roller Girl leggings! Made in figure flattering four-way stretch Salutex material for the ultimate range of motion and perfect fit.
Adder Leggings in Blue , Fushia, and Ocean   $72-$82
Leggings that could be a painting! They are an abstract take on the traditional snakeskin print.
Snake Camo Leggings  in Green & Blue  $72-$82
This snakeskin inspired camouflage print is a great way to express your energetic demeanor.
Chameleon Camo Leggings $72-$82
Love these!! They are designed to lengthen your legs and sculpt your bootie, making this a number one seller.
Mahalo Leggings in Blue & Black $72-$82
For those who find comfort in the spotlight and like to show off their authentic style, the Mahalo print encourages action and passion for competition!
Stripe Leggings in Back & Navy $72-$82
I have lived in these leggings for a month!
Blackbird Leggings $75
You will find flight in these kick ass leggings!
Twilight Leggings $75
LOVE this print! Great leggings to wake up to and throw on at 6am.
Floral Duo Leggings $110
These will brighten  up any workout class!
Liquid Blue Leggings $82
These gorgeous legging works for just about everything! From paddle board yoga, surfing, swimming, hot yoga, active sports, sweaty workouts, or leisure. The shirring on the back creates delicate contouring to make your bum looks its best.
Coral Leggings $75
Sporty and chic, this print is a head turner!
The last three pair are the best for tummy tucking and booty lifting!!
Moroccan Mint Dip Dye Leggings $75
Dip Dye Midnight Leggings $75
Stripe Stone Slate Leggings $75
These legwarmers take a classic 80's look and creates a modern edgy trend.
Legwarmers – $48
TEE'S
Whether you choose to wear these tees to workout in or everyday, they are the MOST comfortable/chic tops to own under $50!!!
Distressed V Neck in Olive & Black $44
Cut Out Tank in White, Pink & Black $38
Double Cut Tee in White & Navy $40
Ripped Pocket Tee in Black, White & Olive $48
Criss Cross Tee in Taupe & Olive $44
Lace Up Tee in Light Grey, Navy & Olive $44
HAPPY SHOPPING!!! 
See you on the mat! 
XX
Amy Selling